Tennessee Outdoor Furniture - Quality Cedar Products
HAVE QUESTIONS OR A SUGGESTION? SHOOT US AN EMAIL TODAY! Your privacy is important to us.
Use the form below to send a message to Tom Fox. Be sure to enter your Name, Email Address and Phone Number. This information is only used for contact purposes. Your privacy will be respected.
Administer This Page
This site is designed and maintained by the team at Sand Dollar Digital Design, Inc. ©March 2006
Report abuses and other comments about this site to Sand Dollar Digital Design, Inc.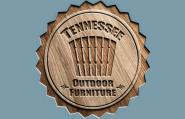 Our Mission Statement: To use the abilities and talent given to us by God to produce a quality product with exceptional service.
The Adirondack Chair goes hand in hand with outdoor leisure and relaxation. Furniture made from Western Red Cedar is synonymous with durability and lasting beauty. Our master craftsmen produce a lasting and elegant product that will truly become an heirloom to pass to the next generation.
Tennessee Outdoor Furniture - Quality Cedar Products
4932 Mt Zion Rd
Springfield, TN 37172
Call Us At:
Like us on Facebook
(615) 604-5714